Lexie McLeod (1895)
Alexandrina McLeod was born at Condah on 31st December 1895. She was the youngest daughter of Norman and Jane McLeod. A brother Duncan was born two years later and the last child Kenneth was born in 1900 but died the same year. Lexie would have been 11 when Norman went to war and 14 when he was killed in action on 31st May 1918. I'm sure this would have had a profound effect on her life. I remember Peter Routledge, my father, telling me that Lexie and her mother would walk miles across the paddocks to Branxholme to attend church on Sunday mornings. The first time Lexie ever had a drink of beer was when she drove herself and others through a bush fire and once she had got everyone to safety she was handed a beer which she scolled straight down. Her older brothers would be away for months shearing and when they returned with a hefty pay cheque would head to the Condah Pub. Rumour has it that Norman rode his horse through the pub after such a session. Lexie also was the first in the area to have her car licence and would drive young men from all over the district to Condah Railway Station on their way to and from war. She would have been aware that after her brother's death a similar fate could await them.
As a child I remember going to Portland with my family on school holidays to vist Lexie and her husband Lander. They had a shop at 67 Bentinck Street and lived in a flat behind. You would knock on front door next to shop and walk down a long passage to the side door that led into the kitchen. We would rent a house nearby and be summoned around for dinner of roast and gravy and many vegetables. Michael and I hid the excess vegetables under our jumpers and then sneaked outside to hide them in the back yard.
One memorable occasion at Portland stands out. We were all having a counter meal at a local hotel and my younger sister Jane tried to take a sip of dad's beer. Next minute she got a hard slap from Lexie. Mum was most annoyed and Jane furious so the rest of the visit was very frosty, with dad stuck in the middle as peacemaker. Her Boys George and Peter and niece Emily could do no wrong in Lexie's eyes. "Yes Aunt" was their constant answer to her queries. Lexie would come to Melbourne for visits particularly after Lander died. Her first stop would be Clayton with George and his wife Margaret. There would be an inevitable falling out with Margaret after a few days and dad would receive a tearful call to come over and collect her. Once installed at Niddrie she would hold court with glass of beer, cigarettes, and be very indulged. Pete was the King and Lexie made sure he had all his little treats – lollies, butter, chocolate and plenty of ale. Lexie and Margaret had a rather tumulous relationship. George and Margaret once came to Niddrie to visit and Lexie remarked loudly "Your teeth look lovely Margaret, have you just had some new dentures made up".
Lexie was always immaculately dressed – matching outfits hat and shoes and red lipstick regularly applied. Our mother Evelyn took her to the city during one visit and left her on a seat in Bourke Street Mall making her promise she would not move. When she returned Lexie was busy directing an elderly lady to the Toillee. I took David to Portland to meet Aunt. She gave him the once over and then whispered to me "he's seems alright but what are his intentions???".
Once David got the seal of approval by being a fosters drinker he was definitely in. When staying at Bentinck street he was given two towels as men always need two and told to use the outside toilet because men don't like to be disturbed. Aunt used to prepared bran soaked overnight in orange juice and David made the mistake of saying that it looked tasty so when visiting two bowls were prepared and his was brought in on a tray each morning. Three hot meals a day were Lexies remedy for a long life washed down with a few ales.
When Peter retired and went to live in Ascot Vale Lexie would come down for Christmas. She was put in charge of the flower arranging and we were all encouraged to call around so Pete could have a break. He would be constantly praised for his great house keeping skills and cooking ability but would be looking rather strained by the end of the visit.
One year Lexie stayed with us for Christmas at Niddrie. She flew down from Portland in a small plane and David and I met her at the airport. All the passengers had disembarked and still no Aunt. Finally she appeared red hat and matching jacket hair nicely permed being escorted across the Tarmac by the Captain. We invited the neighbours in for an evening xmas drink and David thought he would escape by meeting friends in the city. He arrived home at 2am to have the front door flung open by Aunt with glass in hand telling him to sit down at the piano and play a few tunes. Lexie and Coral, our scottish neighbour now wearing Lexies red hat were waltzing around the floor. As usual Lexie was the last to bed and first up.
At Lexie's last Christmas visit to Ascot Vale she was becoming very confused. She was also walking with a frame so Peter would lie in bed at night waiting for the thump thump of the frame along the passage. She would appear at his bedroom door all times of the night asking if this was the toilee.
David's Aunt, who was rather verbose, also came to xmas lunch and as we were all seated at the table and Nance was telling a story, Lexie said loudly "who brought the talking machine"!! Georgia Routledge was 2 at the time and sitting at the table in her high chair. Whenever we mentioned Georgia's name Lexie would say "where's George". Plum Pudding was served and everyone watched in horror as Lexie piled on the mayonaise saying she always enjoyed having whipped cream with her pudding and Dear Old Pete had cooked a lovely dinner.
So that was the end of the extended family Christmases and the many happy and funny memories of Lexie. They never seemed the same after that and Lexie later on went into supported accommodation.
When George became very ill with cancer he wanted to go and say goodbye to Lexie so Peter drove him to Portland. George was very thin and the first thing Lexie said when she saw him was "George you have lost weight"!!! I've got cancer Aunt he replied. Lexie then threw her arms in the air in horror. 10 minutes later she exclaimed "George you are too thin". The same explanation followed for most of the visit.
So from Morven Park, Condah and the extended McLeod clan came a family of strong values and principles, no nonsense hardy stock – the likes of who we will never see again.
Elizabeth Hedger, 2011.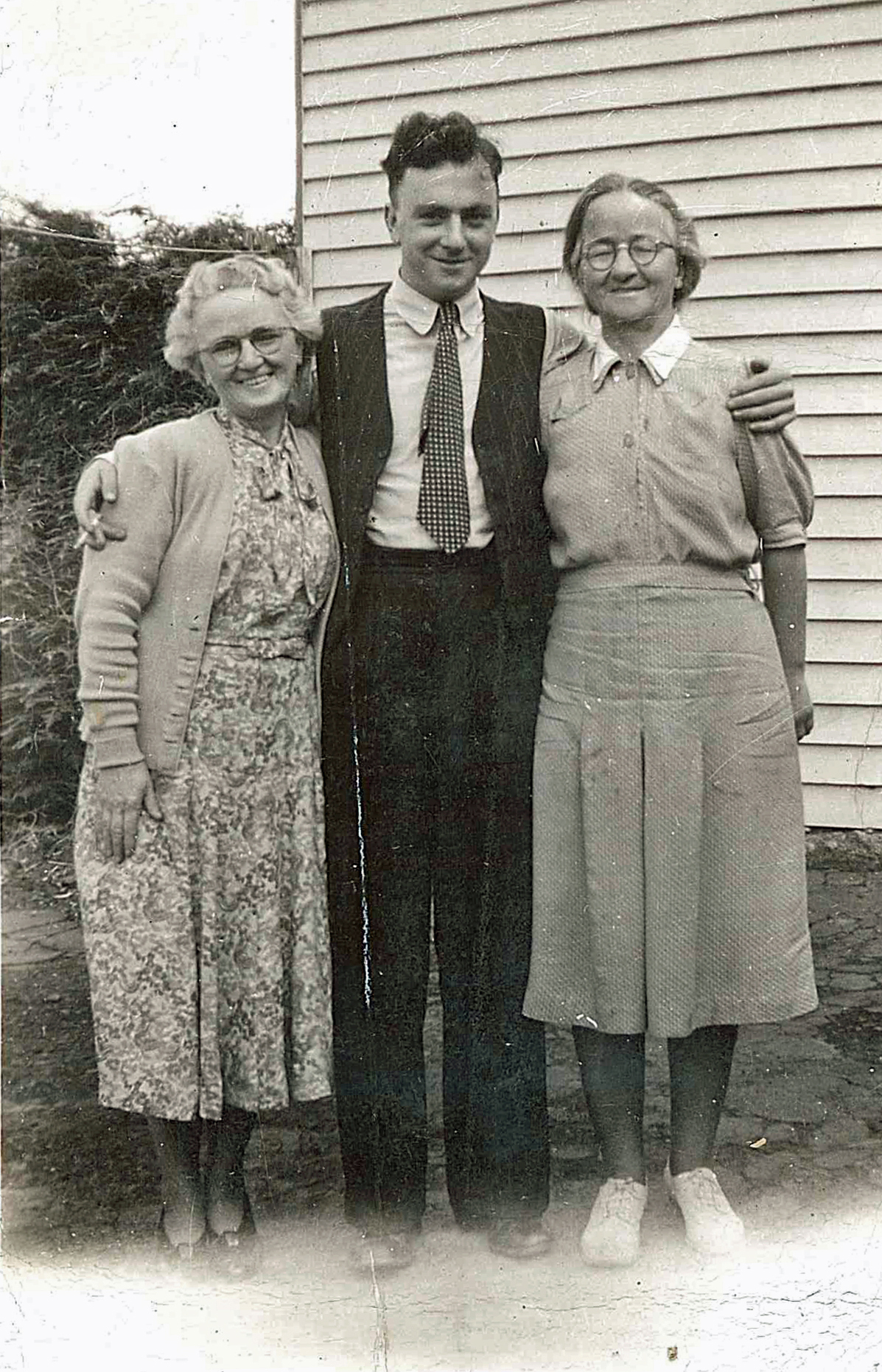 Lexie McLeod, left, with sister Susan McLeod, right, and nephew, Peter Routledge, middle.
Comments
Add Comment